The Best Dissertation Defense Tips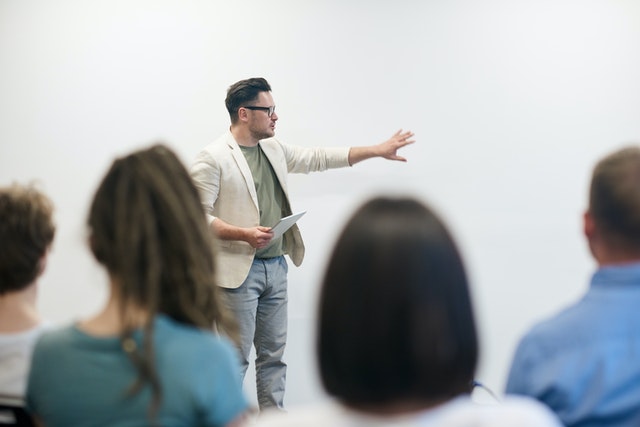 A dissertation defense marks the end of your PhD. All the hard work that you put into your dissertation comes down to the dissertation defense presentation where you will have to explain your choice of subject, the methods that you used and the results obtained.
For most students, this is a stressful time because you have to prepare a good dissertation proposal defense PowerPoint presentation and then address a committee. However, don't let the nerves get to you. Follow these simple preparation and presentation tips to ace your dissertation defense.
What is a Dissertation Defense?
After you have presented your dissertation paper in the last year of your PhD, the results of the paper must be presented to a committee. It is an oral presentation where you will also be addressing questions that the committee may have about your work and how it can contribute to the field that you are studying.
Remember, your dissertation paper has already been reviewed by this point. The presentation is the committee's way of understanding what you learned while putting it together. They also assess if the student is ready to take on the roles and responsibilities of a scholar. For doctoral candidates, this is an opportunity to explain what they did and the results that they obtained. Think of it as a final step before you step into the academic world.
How Long Is A Dissertation Defense?
On average, set aside at least 2 hours for your dissertation presentation. Remember to factor in the time that you take to prepare and warm up to the committee, present the actual defense and then complete a round of questions with them.
Sometimes, the defense can be over in as little as 20 minutes. It is necessary to understand that the duration of the defense is not a mark of its quality. As long as you are able to confidently defend your paper and keep the committee involved, you can consider it a successful dissertation defense presentation.
How long does a dissertation defense last? This is a question on the minds of most doctoral students. The answer to this is varied as it vastly depends upon the field of study and the nature of your topic.
How to Prepare For the Dissertation Defense?
Now we come to the most important question, how to prepare for dissertation defense? The good news is that you will have ample time to get all your material together and practice. Here are some tips that have always helped students do their best on the final day:
Attend As Many Conferences As Possible
There are several academic conferences where you will get a chance to present your work. This is the best exercise to practice for your final defense of dissertation. The advantage of these conferences is that you will be able to address an international and mixed audience. You also get good feedback that you can use to improve your defense presentation. Besides conferences, industry events and workshops are great opportunities for you to get used to being on stage and addressing people.
Know Your Committee
During your dissertation defense proposal, the interaction is limited to you and your committee. So, it helps to know who you will be presenting to. Learn about the work of your dissertation defense committee so that you can evaluate your presentation through their eyes. Read their latest papers and publications to stay updated about their work. This will also help if your committee members have worked on similar topics and may direct related questions to you. It helps to meet your committee members before the presentation if you have the opportunity. Make notes during these meetings and identify the points that they criticized. Using this information, prepare 5-10 dissertation defense questions that they may ask you.
Go Through All the Important Papers
The questions that the committee presents to you will be related to all the work in your field. So, it is important to stay current and updated with the publications and research papers that already exist. It is a good idea for you to go through papers related to your work and the work of the committee.
This will give you a great foundation to answer questions. When you are reviewing the available research, you can also explore some subjects outside the primary focus of your work. Think of papers on various fields of application, the broader scope of your subject, and future applications. This will help you be completely prepared for any questions that your committee may throw at you. Make sure that you practice short, crisp, and smart answers to questions that you think the committee may ask you based on the information you get after reviewing available papers and publications.
Prepare an Organized PowerPoint Presentation
A PowerPoint presentation is an important tool to keep you focused on the important subjects during the dissertation defense. This presentation also comes handy when you are presenting your work to the faculty of any University that you plan to apply to in the future. Make sure that the template of your presentation is simple. You must also make sure that it is not too wordy and lengthy. Think of short sentences and keywords that provide:
A quick overview of the literature that your paper is based on
A clear understanding of the purpose of the study.
Details of the findings of your research
The implications of the results that you have arrived at.
Make sure you speak to your department and professors to understand the exact flow of the presentation. The requirements vary from one university to another. However, the points mentioned above are of prime interest to your committee as they cover the most important elements of your work.
Practice Before You Present
The more you practice before your PhD dissertation defense, the better you will be at delivering it. Once your dissertation proposal defense PowerPoint is complete, stand before a mirror and present it like you would on the final day. Pay attention to your body language and the pronunciation of the words, especially important jargons and terms. Here are some tips to help you practice better:
Keep your body language more open. This means your arms must be more relaxed and open.
Avoid moving your arms too much as it is a sign of nervousness.
Make sure you pause to breathe at the right time.
The posture of your body should be relaxed, yet confident.
Try to be as expressive when necessary.
Vary the tone of your voice to emphasize on important points of the dissertation defense.
Speak slowly and clearly.
It helps to watch dissertation defense presentations by students who have already completed their PhD. There are several videos available online that can help you understand the right way to present yourself before a committee.
Get To Know The Room
You will be assigned a conference hall well in advance. Pay a visit and take a look at the tools and facilities available in the room. This will help you understand what material you need. For instance, do you need to carry your laptop with you or should you hand it over on a pen drive? Of course, have both options ready on the final day, just in case.
You will also get an idea about how the committee will be seated during the presentation. You can practice your movements according to that. The added advantage to knowing the room you will be presenting in is that you can visualize yourself in it every time you practice. Then, when you are actually presenting the defense, the room will feel more familiar and comfortable.
Dissertation Defense Tips
Now that you understand the process of preparing for dissertation defense, here are some tips that will help you deliver it well:
Presentation matters: The first impression that you make leads the entire presentation. You want to look smart, confident and ready to take on any questions that the committee may have for you. So, what to wear to a dissertation defense? Simple formal clothing is the best way to go. To add a touch of your personality, you can include a quirky tie, a family hair loom or any other element that is not too distracting. Make sure you get a thorough grooming session before your presentation so that you look fresh, despite the long hours of working and preparing for your dissertation defense.
Prepare yourself mentally: This is the most important step when it comes to defending your dissertation. Make sure that you go in with the right attitude. Think of different ways to calm your nerves before you step into the presentation room. A few breathing exercises help immensely. Also, remember that you have prepared well and are ready to face the committee. It also helps to know that the committee is on your side. They are not out to get you and want to ensure that you get the best outcome as well.
Always maintain eye contact during the presentation: This is very important to show that you feel confident about defending your dissertation. Look at each member of the committee during the presentation. Do not stay focused on your PowerPoint or reading material as it can be very distracting.
Answer questions to the point: Whenever you are asked a question by a committee member, make sure that your answer is to the point. Do not draw any tangents or parallels just to prove your point. The more you divert, the less prepared you seem.
Be open to discussion and criticism: Sometimes, a committee member may not agree with your results or approach. You do not have to accept your mistake or agree with him or her. Instead, explain why you chose the other direction and ask for their opinion on that. This impresses them more as it shows your critical thinking ability. It also shows one of the best qualities of a scholar, which is being able to engage in open dialogue and discussion.
Why Is Dissertation Defense Important?
The dissertation is one of the most important papers during your doctoral degree. It is a test of your capabilities as a researcher. The dissertation defense proposal reiterates your understanding of the subject that you have chosen and, more importantly, your field of study. It is also a great opportunity for you to present your work. This is what you have been working on through the course and sharing the findings is an exhilarating experience.
If you need any assistance with your dissertation defense presentation, you can get in touch with our experts for a range of templates to pick from. You can also get complete professional assistance for the actual dissertation paper, from research to writing and formatting it as per the requirements of your university.
Frequently Asked Questions
How should I prepare for my dissertation defense?
To prepare for a dissertation defense, review your dissertation thoroughly, rehearse your presentation, and anticipate potential questions. Also, dress professionally, arrive early, and remain calm during the defense. Respond respectfully to feedback and questions, and be prepared to defend your research and findings.
How long does a dissertation defense last?
The length of a dissertation defense varies depending on the institution and the complexity of the research. Generally, it lasts between one and two hours, including the presentation and the questions from the committee.